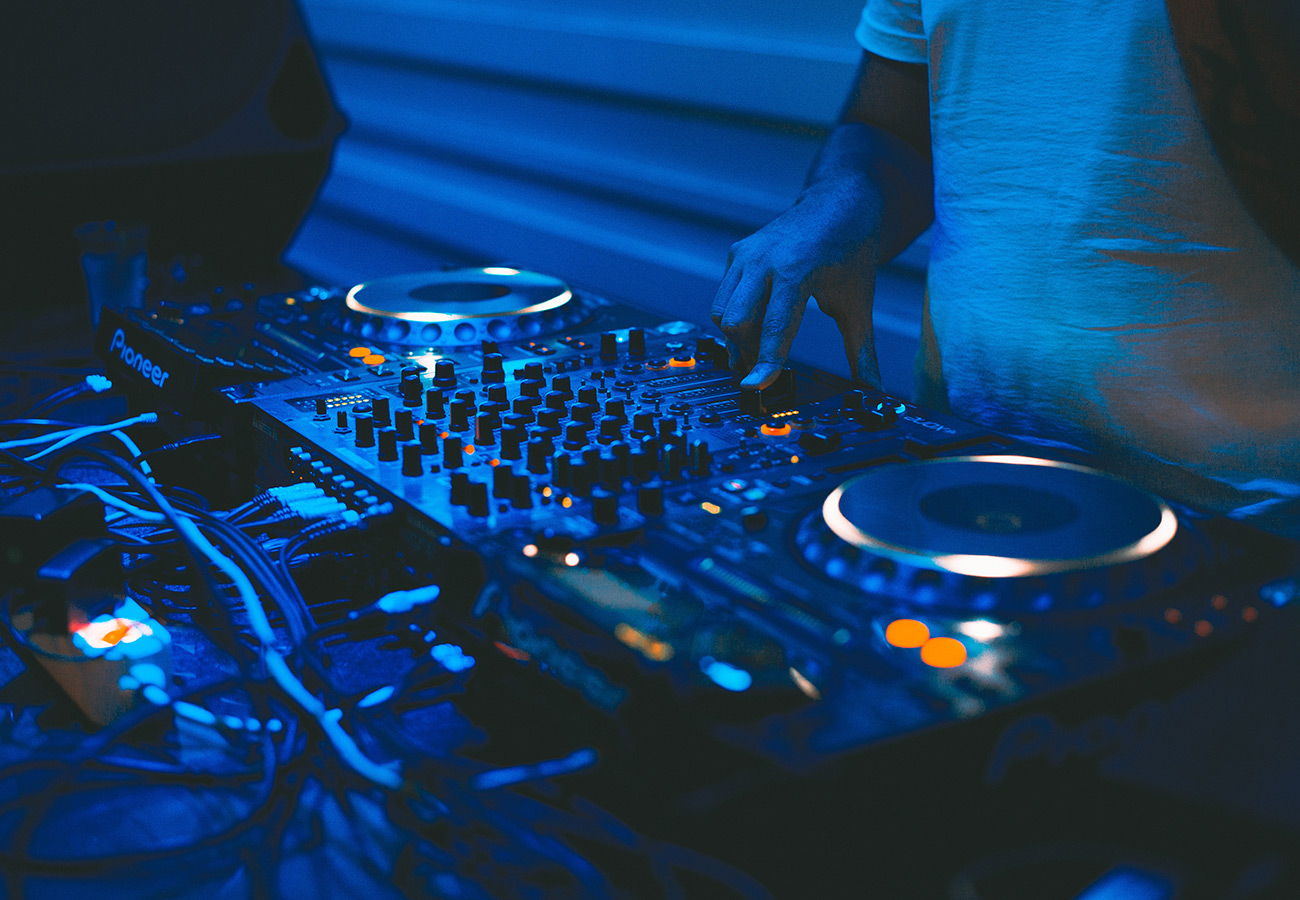 About this course
If you want to learn to DJ for the first time, or need some help with your beat-matching, the Basic DJ Course is perfect for you. Your tutor will guide you step-by-step through the equipment and techniques you need to keep the dancefloor rocking. We teach in small groups to ensure plenty of time for every student to gain essential hands-on experience.
You have a choice between a two day crash course or one lesson per week spread over four weeks.
Content
Equipment Basics: Explanation of key parts, turntables, mixer, CDJs
Cueing: How to perfect your cueing skills
Beatmixing: How to beatmix on vinyl or CD in a professional environment
Vinyl & CD Control: Professional control of vinyl and CDs
Drop Mixing: How to perform your first basic mix
Performing Your First Blend: Mixing with two copies of same record
Phrase Mixing: The ability to accurately mix using the musical phrases in a record.
Headphone Mixing: How to mix professionally with headphones.
Controlling the Booth: How to use booth monitoring
EQ Mixing: How to use EQ to enhance the smoothness of your mixes
Track Selection: Tips and Tricks on how to select the right music
Pitch Control: How to effectively control the pitch
Final Mix Preparation: Final tips from the tutors before you prepare for your set
Learn all you need to know about…
Equipment & Setup
Equipment Functions
Turntables, Mixer, Amplifier, and Cartridges
Leads and Connections
Setting the Tone Arm Weight
Beats, Bars and Phrasing
Tempo and BPM (beats per minute)
How Tracks are Atructured – Beats, Bars and Phrases
Finding the First Beat of the Bar
Cueing a Track Using Faders and Prefade (Cue) Controls
Drop Mixing
Switching between Styles and Tempos
Matching Levels
Cueing and Crossfading
Know Your Music
Reading Vinyl Grooves
Spotting Tunes that Work Together
Reading the Crowd
Beat Matching
Adjusting the Speed of the Record Using Pitch Controls.
Manually Adjusting the Speed of the Record
Pitch Shifting
Crossfading Smoothly
Recording Your Mix
Basic Recording and Editing
Burning Your Mix to CD
Cost
£299 – one-to-one two day course (10am – 4pm)
£299 – one-to-one over 4 weeks (one evening per week)
Lesson Plan
DJ Theory: You will learn in detail how to identify and count beats, bars and phrases which can immediately help you mix tracks at the right points. You will also learn the definition of Tempo and BPM.
DJ Equipment Walkthrough & Connectivity: You will learn the ins and outs of CDJs, as well as the Pioneer DJM mixers and controllers which are the industry standard, used in events and club venues all around the world. You will also learn how to connect everything so you know you are always in control.
Rekordbox: You will be taken through the industry standard DJ program Rekordbox, which is used by most club DJs. Serato and DJ Pro 2 are also available to learn.
Playlist creation: We'll show you how to use all of the features included in Rekordbox to help you create the best playlists.
Fundamental DJ skills: Beatmatching is the first step to creating a smooth transition between two tracks. We will ensure you master all the techniques required to beatmatch like a pro. This includes learning about about pitch and tempo matching. We'll take you every step of the way towards creating a seamlessly smooth transition between tracks.
Learn to mix: You will cover every step required to go from complete beginner to mixing your first tracks. You'll learn how to set up the decks and mixer correctly, loading the track, pitchmatching, beatmatching, and using the faders.
EQs: EQs are a vital part of mixing and, when used well, can allow you to create mashups on the spot, as well as improve the sound of your transitions drastically. You will learn the theory behind how EQs work and how they can be used across multiple mix routines.
Loops: We'll show you the power of using loops. You'll learn multiple uses for them, from extending tracks to adding powerful, creative effects to your mix.
Record your first mix: At the end of the course you will record your first full mix using all the techniques and skills you have learnt thus far.
How long does the course last?
The course lasts for two days (10am – 4pm) or four weeks (one evening a week).
What time of the day do I attend the course?
The course starts at 10am and finishes around 4pm, although we may be able to structure a time slot to work around your schedule.
Can I really learn that much on a course this short?
Yes you can! Our crash courses are structured to be intensive and informative, and students gain a great deal of knowledge from them. We constantly monitor the content and delivery of all our courses and if they didn't work we wouldn't be running them!
Is there a possibility of getting a slot at a Technique Recordings Takeover event?
Yes, that's a possibility. After the course is completed the tutor will mentor the student and continue to give them advice and even, potentially, put them forward for consideration for a potential set.
What's next?
If you would like to enroll, click here and we'll do the rest. You'll learn one-to-one and will receive practical, hands-on tuition from the first day. You can also change the course content and timetable to suit your personal requirements.
Reviews
Lorem Ipsn gravida nibh vel velit auctor aliquet. Aenean sollicitudin, lorem quis bibendum auci elit consequat ipsutis sem nibh id elit. Duis sed odio sit amet nibh vulputate cursus a sit amet mauris. Morbi accumsan ipsum velit. Nam nec tellus a odio tincidunt auctor a ornare odio. Sed non mauris vitae erat consequat auctor eu in elit.
0
Rated 0 out of 0 Ratings